DC Reveals Stunning Batman Variant Cover For Pride Month
Artist Jen Bartel is back at it again with another breathtaking variant cover for DC Comics' Batman in celebration of Pride Month.
Pride Month is quickly approaching and DC is prepping for the celebration with a plethora of stories, character spotlights, and artwork that now also includes a stunning variant cover for . The unveiling of this cover comes along with an abundance of other sneak peeks at the celebratory June event including more art, panels from upcoming issues, and the official DC Pride logo.
Pride Month is celebrated nationwide with parades, community outreach, and personal empowerment for the whole LGBTQ+ community. DC is joining in to give the spotlight to its queer comic heroes, providing them with the heightened visibility they so greatly deserve. The sweeping event will include the 80-page anthology series DC Pride, two graphic novels to be released in June and beyond, heaps of beautiful variant covers, and much more. At the forefront of it all is the incredible art produced to celebrate the litany of DC's LGBTQ+ characters and creators.
Related: DC's Lobo And His Daughter Crush To Star In Explosive New Miniseries
Artist Jen Bartel has made quite the name for herself in the world of comics, continuing to produce breathtaking content that showcases both the characters being represented and the real-life communities being honored. This isn't the only variant cover she's illustrated for DC's month of pride either. She also created a beautiful cover for DC Pride #1 (releasing in early June), which features two queer icons of the comic scene: Poison Ivy and Harley Quinn. But now Bartel is outdoing even herself with the breathtaking pride card stock variant cover she's created for the upcoming June issue of Batman #109. The image features Batwoman, Ghost-Maker, Renee Montoya, Harper Row, and the Batman himself. Check out the variant cover, available June 1st, below!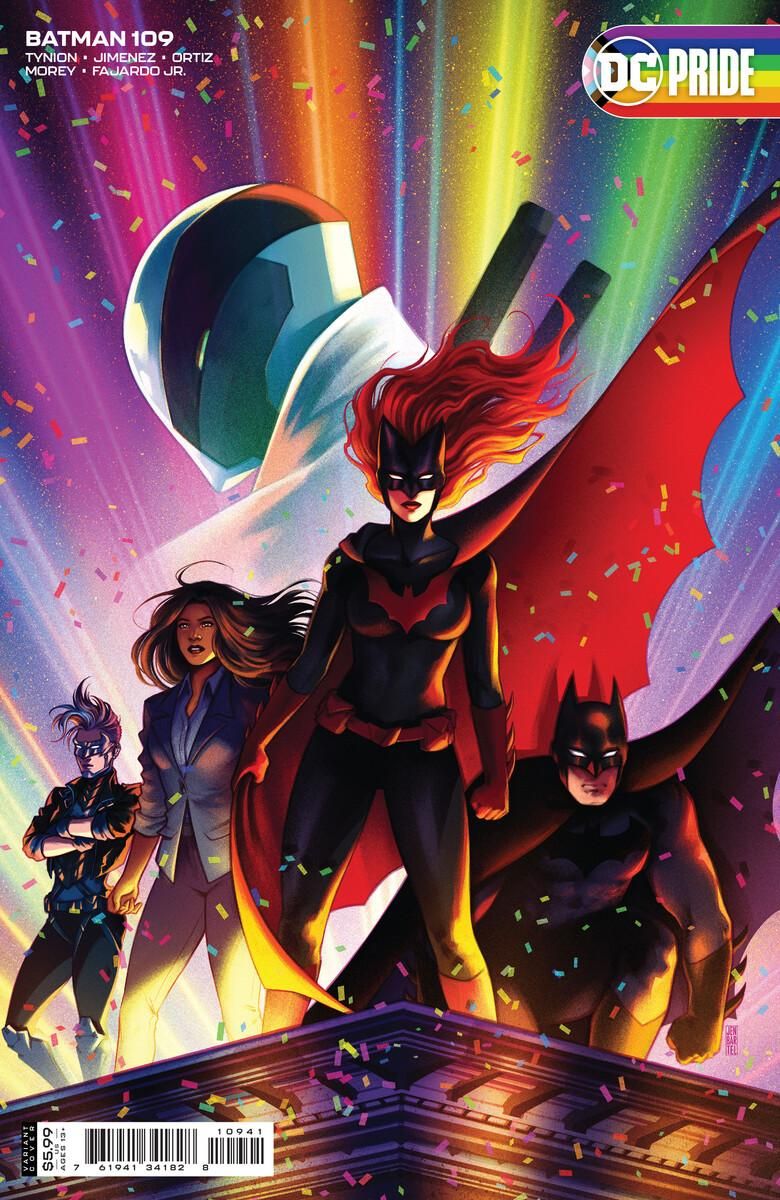 The image just oozes exuberance in all the colors of the rainbow: a visual embodiment of the LGBTQ flag. The creative team behind the book itself are James Tynion IV, Jorge Jimenez, and Ricardo Lopez Ortiz.
Throughout the month of June, DC will release a total of nine Pride-themed variant covers, including the two by Jen Bartel, across their titles featuring work from artists Kris Anka, Stephen Byrne, Paulina Ganucheau, Travis G. Moore, David Talaski, Kevin Wada and Yoshi Yoshitani. Each cover will have its own style and perspective akin to the specific artist who produced it, but each and every one of them is being made with the same intention: to celebrate the LGBTQ+ community and their well-deserved place in both the real world and the world of comics alike. Fans, readers, lovers of art, allies, and the LGBTQ+ community can all keep their eyes peeled for DC's variant pride covers, including Jen Bartel's for Batman #109, come June to help ring in another wonderful year for pride.
Next: Supergirl's Dreamer Debuts in Stunning New Preview
Source : Screen Rant
More