Sugar Cookie Bars
These sugar cookie bars are soft and sweet with a smooth layer of icing that is sprinkled on top. Perfect for your next party! Cookies are a favorite at our house and always on demand. Some that we love are No-Bake, Pecan, and Snickerdoodles Cookies. Easy Sugar Cookie Bars I have made these sugar cookie…
These sugar cookie bars are soft and sweet with a smooth layer of icing that is sprinkled on top. Perfect for your next party!
Cookies are a favorite at our house and always on demand. Some that we love are No-Bake, Pecan, and Snickerdoodles Cookies.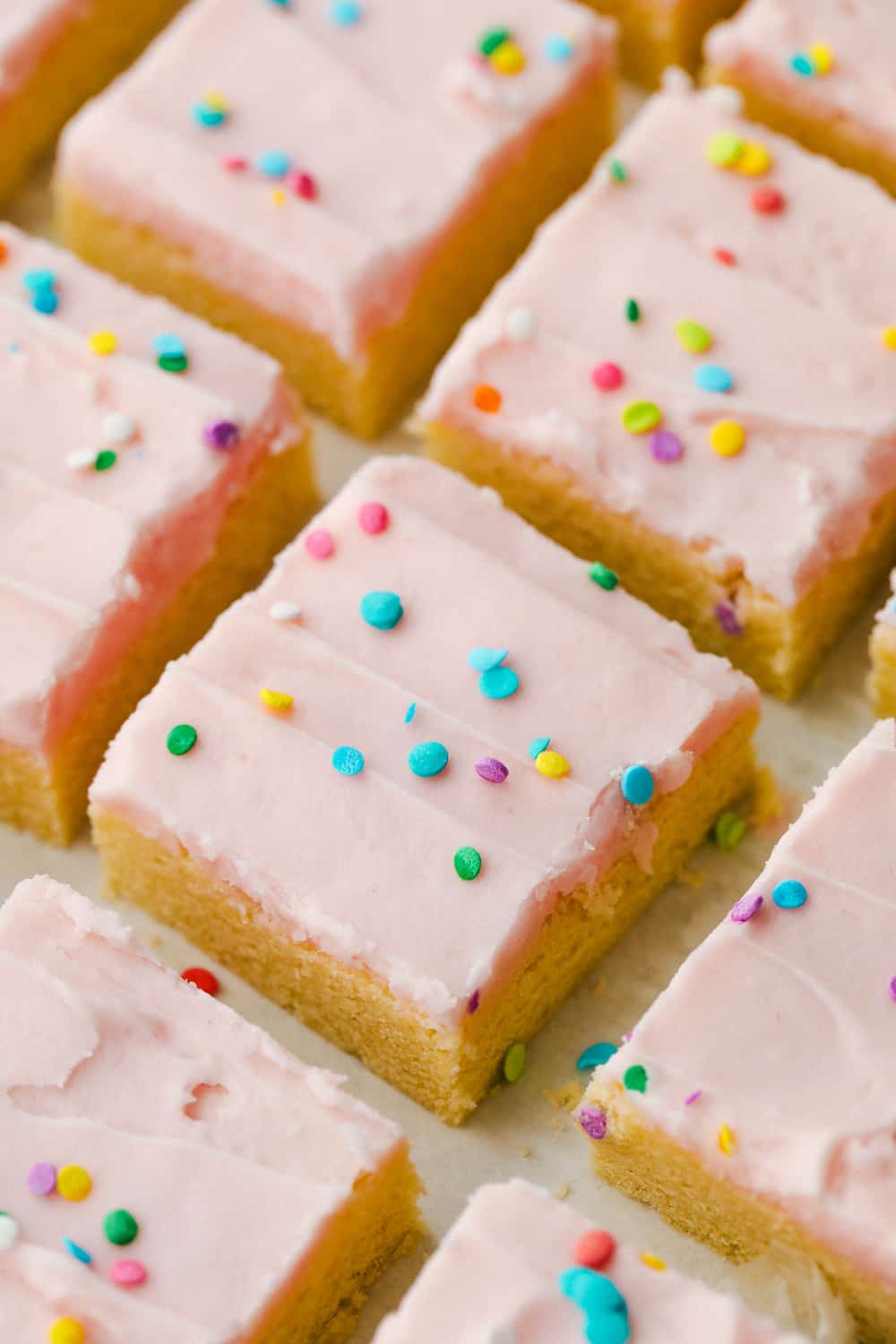 Easy Sugar Cookie Bars
I have made these sugar cookie bars over a dozen times! They are so easy to whip up a batch and have a delicious sugar cookie in a bar! A soft and chewy sugar cookie with delicious frosting on top. And it makes enough to feed a crowd! You are going to love these and they will become a major hit wherever you take them!
 A sugar cookie bar is everything a good sugar cookie is: soft, chewy, and sweet but not too sweet! Traditional sugar cookies take a little more time. But these sugar cookie bars are easy and bake in under 20 minutes. If you love sugar cookies these Lofthouse cookies have the sweetest touch that everyone loves! Anyway a sugar cookie is made is my favorite!
What do you need to make sugar cookie bars?
These are basic pantry staple ingredients that makes these sugar cookie bars easy to make any day of the week. It is quick and easy to mix together and bake within 30 minutes.
Butter: Use unsalted butter softened at room temperature and not melted.
Sugar: This is the main attraction and sweetness to any sugar cookie.
Egg and Egg Whites: The egg and egg whites are a special way to bond the cookie bars together while baking.
Sour Cream: Keeps the cookies moist and also helps give the sugar cookie bars that signature cake-like texture.
Vanilla Extract: Adds flavor to the dough.
Flour: Creates a thick batter that bakes up evenly.
Baking Powder: Make sure it is fresh and this will help keep the sugar cookie soft and puff up in the oven.
Salt: Just a pinch!
Colored Frosting
Frosting can be fun and easy to layer on top of these sugar cookie bars. Make sure the sugar cookie bars are cooled before applying the frosting.
Unsalted Butter: Cut up into tablespoons for a quicker way of mixing together.
Powdered Sugar: For a thicker frosting add more powder sugar.
Half and Half: For a thinner frosting add more half and half.
Vanilla Extract: Added for flavor in the sugar cookie frosting.
Food Coloring of Choice: I went with pink because of my girls but mix it up and have a fun time with the colors depending on the holiday or celebration!
How Do you Make Homemade Sugar Cookie Bars?
 After mixing the dough together, press it into a 9 x 13 pan and bake, cool and then frost! It is that simple and will come together quick and easy!
Set Temperature:

Preheat the oven to 375 degrees. (best if done 30min before baking so it's truly the right temperature.)

Prepare Pan:

Grease a 9 x 13-inch pan. (use parchment paper for easy removal)

Dry Ingredients:

Combine all the flour, baking powder, and salt in a separate bowl and set aside.

Mix Together:

Cream butter and sugar using a stand or electric hand mixer. (about 3 min)

Add in:

Then add egg, and egg white, sour cream, and vanilla extract mix until fully combined.

Combine:

Slowly add the dry ingredients mix until just combined.

Fill Pan:

Lightly press dough into a greased pan.

Bake:

Bake for 17-20 minutes. They are done when the edges are slightly golden and the toothpick comes out clean.

Frosting:

While the cookies are baking make the frosting by combining the butter, powdered sugar, and half and half until fluffy.

Color and Flavor:

Add in vanilla extract and optional food coloring. 

Checking:

When the toothpick comes out clean and edges are slightly golden take it out of the oven 

Wait to Frost:

Let cool completely.

Frost and slice to enjoy.
Tips for Making the Best Sugar Cookie Bars
These tips will help ensure that your sugar cookie bars are thick, sweet and fluffy! Every bite will be soft and chewy!
Baking Powder: Make sure it's fresh and replace it every 6 months.
Flour: Fluff your flour before you measure. This will avoid having dense or dry cookies. Use a whisk or spoon it in the measuring cup.
Sour Cream: Use full fat for more rich and tender cookies.
Powdered Sugar: Sift if you want the frosting to be smooth.
Sticky Dough: Refrigerate until your butter hardens up making it easier to place in the pan.
Do not over bake: Take the pan out of the oven as soon as the edges are slightly golden and the toothpick comes out clean.
Let them cool completely before frosting: hardest part in my opinion. 
What Can you Serve with Sugar Cookie Bars?
You can serve just about anything with these sugar cookie bars, They are perfect for a potluck, birthday parties or special occasions. Serve these sugar cookie bars after a delicious dinner, after a lunch salad with friends or serve an afternoon snack after school. 
Dinner
Copycat Chick-fil-A Nuggets and Chick-fil-A sauce
Dinner
Awesome Air Fryer Pizza